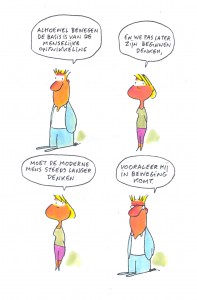 Wanneer je gelukkig bent, ervaar je vooral positieve emoties, zoals vreugde, gemoedsrust, vrolijkheid, ontspannenheid, tevredenheid. Je functioneert beter, je hebt minder last van stress en je kan beter het hoofd bieden aan problemen.
In het andere geval ervaar je meer negatieve emoties, zoals onrust, gespannenheid, gejaagdheid, ontevredenheid, verdriet, angst.
Erfelijke aanleg en omstandigheden bepalen deels jouw geluk, maar de rest heb je zelf in handen. Ongeveer 40% van jouw geluk kan je beïnvloeden door de manier waarop je je leven inricht.
Beïnvloed zelf jouw geluk: beweeg!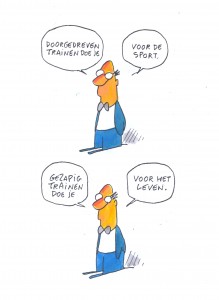 Eén van de aspecten waarop je zelf kan inwerken om te bouwen aan jouw geluk, is het zoeken naar een evenwicht tussen lichaam en geest (mens sana in corpore sano). Door de evolutie heen, is de mens zijn 'hoofd' of 'geest' meer en meer beginnen gebruiken en minder en minder zijn 'lichaam', waardoor er een onevenwicht tussen lichaam en geest is ontstaan. Dit onevenwicht kan de oorzaak zijn van heel wat kwaaltjes of kwalen.
Beweging kan een positief effect hebben op de stemming, het gevoel van welbevinden en de algehele psychische en lichamelijke gezondheid.
In het geval van runningtherapie als bewegingsvorm wordt de zogenoemde rustige duurloop (therapeutisch) ingezet ter voorkoming (of behandeling) van psychische klachten.
Door regelmatig te lopen, behoud of herstel je het evenwicht tussen lichaam en geest en kan je (psychische) klachten die zich in de toekomst zouden kunnen voordoen als gevolg van een onevenwicht tussen lichaam en geest, vaak voorkomen.