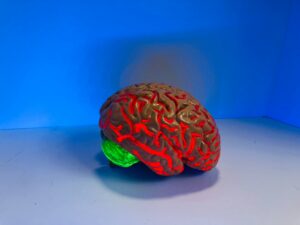 Ik heb op mijn ID's me armband staan: 'Running clears my mind'
Nu moet ik eerlijk bekennen dat ik Arianne haar reactie eerst niet helemaal begreep.  'Wat bedoelde ze toch met 'mijn ID's me armband'?
Google vertelde me (www.idsme.nl) dat dit een SOS polsbandje is is dat je als sporter kan omdoen, waarop je jouw naam kan vermelden en de  contactgegevens van de persoon die moet worden gewaarschuwd als er iets aan de hand is. Maar je kan er ook belangrijke medische informatie op kwijt, zoals een allergie waar je mee kampt of een ziekte waarvan hulpverleners op de hoogte moeten zijn. Interessant, niet? Of jouw motto of een inspirerende quote, zoals bij Arianne: 'Running clears my mind'.
Deze quote sprak voor mij dan wel weer wel voor zich omdat ik het lopen zelf ook ervaar als een manier om mijn hoofd terug leeg te maken als ik te veel of te lang aan het denken ben geweest, om orde en structuur te krijgen in gedachten die zich soms te pas en te onpas kris kras door elkaar aandienen, om zorgen beter te kunnen plaatsen, om terug helder te kunnen denken.
Neurowetenschappers hebben dit vrij recent onderzocht en ontdekten dat een stevige fysieke inspanning, waarbij je flink moet zweten, je brein helpt om nieuwe neuronen aan te maken. Tot dan toe werd aangenomen dat je brein slechts neuronen aanmaakte tot aan het moment dat je volwassen werd. Niet dus.
De nieuwe neuronen worden aangemaakt
in de hippocampus, het deel van je hersenen dat verantwoordelijk is voor leren en geheugen
in de frontale lob, het gedeelte van de hersenen dat wordt geassocieerd met helder denken en zaken als 'vooruit  plannen, focus, concentratie, het jezelf een doel stellen en timemanagement maar ook met emotieregulatie, hetgeen verklaart waarom hardlopers zich vaak beter voelen na het hardlopen
Boeiend!