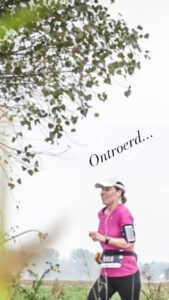 ---
Ja, ik ben echt ontroerd. Door de mooie reacties die ik kreeg als antwoord op mijn vraag in een hardloopgroep op Facebook.
Ik postte er dat het lopen mij persoonlijk al heel veel goeds heeft gebracht. Sinds mijn 18 jaar (ik ben er nu 46) is lopen mijn rode draad. Als kind was ik wel sportief maar lopen om te lopen lag me niet. Ik deed wel aan atletiek maar het opwarmingsrondje vond ik toch maar niks. Tot ik de rustige duurloop ontdekte. Ik merkte dat een half uurtje lopen voor een helder hoofd zorgde bij het studeren. Tijdens het lopen krijg ik mijn beste ideeën en na het lopen voel ik me steeds beter dan ervoor.
Mede dankzij het lopen heb ik – niettegenstaande verschillende jaren met stemmingsstoornissen – mijn studies kunnen afronden, een gezin kunnen stichten en een professionele loopbaan kunnen uitbouwen.
Intussen zijn we al een aantal halve marathons en hele marathons verder 🙂 en wat die stemmingsstoornissen betreft: ik heb al sinds enkele jaren mijn evenwicht gevonden 🙂 Ik zit beter in mijn vel dan ooit te voren.
In mijn post op Facebook vroeg ik of de andere groepsleden – al overtuigde lopers – me een kort tekstje konden bezorgen om te gebruiken op mijn website want ik wil graag zo veel mogelijk anderen inspireren en motiveren om ook aan lopen te denken ter voorkoming of behandeling van psychische klachten (zoals stress, angst, burnout, depressie, dysthymie,…).
Ik wil de reacties op deze post heel graag met jullie delen omdat ze zo veelzeggend en ontroerend zijn.
Laat me met de reactie van Marjoleine Wolters-ten Brinke beginnen. 
De eerste keren dat ik eindelijk met mezelf kon opschieten, zijn ontstaan tijdens het lopen. Het op mezelf zijn en iets presteren waarvan ik niet had gedacht dat ik het in me had, heeft me dichter bij mezelf gebracht.

Nu 10 jaar later vind ik mezelf gelukkig best leuk maar wanneer ik mezelf weer eens in de weg zit, wéét ik dat een paar km in m'n hardloopschoenen, me weer tot rust brengt en me helpt relativeren.

Ik zal nooit voor records gaan, het is me echt te doen om weer even tot en bij mezelf te komen. En dat vind ik een magisch iets.